About The Sherwood Motel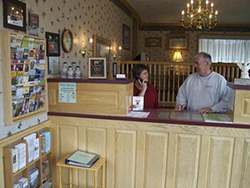 Wellsboro has been rated one of the 100 best small towns in America, and the Sherwood Motel is one of the areas most popular motels. The motel originally opened in 1951, and is located in the middle of Pennsylvania Canyon Country. Guests of all ages can enjoy clean spacious rooms with easy access to a number of exciting area activities, cultural mainstays, restaurants, and outdoor events.
The Sherwood Motel features 42 rooms, and we have the accommodations to fit your entire family. All of our rooms feature cable TV with HBO, free wireless internet, microwaves, mini refrigerators, heating and air conditioning control, and much more. We work hard to provide all of the comforts of home, at prices any guest can afford.
We offer complimentary coffee, hot chocolate, and hot tea each morning from 7:00 am to 11:00 am in the lobby; and open our large, heated outdoor pool seasonally from Memorial Day weekend through early October for guests' use.
Our friendly staff is here to help answer any questions, help you find activities to do in town and the area, and most of all, make your stay as comfortable as possible. Please contact us today for more information about rooms, rates and availability. We look forward to hearing from you and welcoming you to Wellsboro!